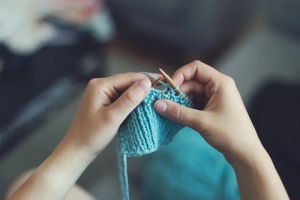 Choosing the Right Wool
For those who are experienced in working with yarn, they are reasonably good at being able to pick the right wool for the project at hand. However, for those who are new to this craft, it can be a little confusing with all the choices that are available to them when it comes to the wool.
For Beginners
The first thing to be learned is that choosing the right wool is essential if they want to finish their project successfully. If there is a pattern being followed, it will usually dictate what type of yarn is to be used. This makes it easy for the beginner. However, if they are working on a project that doesn't dictate the type of wool, then one of the safest choices is medium worsted weight. Also, going with light colours makes it much easier for the newbie who is just learning this craft.
Advanced Knitters
Those who are experienced in knitting can be more flexible with their choices. They have gained the experience as to how the different types of wool function. For example, cotton yarns and those comprised of natural fibres can be more difficult to work with.
The Right Tools
The size of the needles or in the case of crochet, the size of the hook, also dictates the type of yarn they are best used with. The chunky yarns are usually appropriate for the larger needles.
Types of Yarn
The best way to become familiar with the many different types of yarn is to experiment with them. Also, by using different sized needles to determine the outcome. Practising by knitting some squares with the other yarns is a great exercise.
Categories
There are some common categories of yarn types as well as some speciality yarns. They come in different ply dictating how many strands are used in making the yarn. Then there are different weights.
It is true that there is a lot to learn about yarn but for those who want perfection with their completed projects, learning about which is the right one to use is essential.